Shea butter (Wolof: karite) is an ancient bodycare and medicinal botanic product that has been traditionally handcrafted in West Africa for ages.
As shea butter has gained popularity in use worldwide, commercial production has increased wherein shea butter production is standardized, limiting the quality of shea butter that is widely available on the market.
Our research collective of herbal traditions of many cultural lineages of the world have great respect for shea butter and its traditional handcrafting – it is very hard not to once you experience how it is produced: women villagers wildcraft the freshly fallen shea nuts in the forests, gently quick boil, crack the shells by mallet, hand separate the kernels, pound the kernels, gently heat dry, grind in mortars, mill the ground kernels, then slow heat separate out the butter from the oil. This process is often done accompanied by song, conversation and children playing. The resultant butter is raw, unrefined, off-white to pale yellow in color, and with full rich fatty acid and nutrient profile intact, high in antioxidant and anti-inflammatory compounds for deep soothing nourishment. It is a super premium product that outrivals all commercial grades, and this is what we are proud to present to you.*
This product is traditionally handcrafted by women villagers in Ghana, West Africa, fair trade sourced direct from Ghanaian women artisans collective. Comes in 8oz. food-grade PET tub for $12.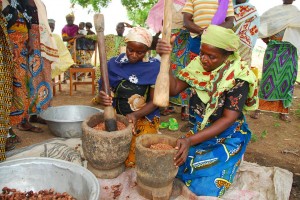 *The above statements have not been evaluated by the Food and Drug administration. This product is not intended to diagnose, treat, cure, or prevent any disease.