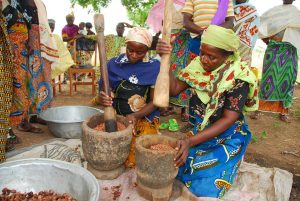 Organic virgin shea butter is a superfood for the skin, which is the largest organ of the body. Shea butter is a miraclous skin care and an amazing body healer it is saturated with healing properties, which include unsaturated fats with a large proportion of "unsaponifiables" components, essential fatty acids, phytosterols, vitamin E and D, provitamin A and allantoin. All these are natural and make Shea butter a superfood for your skin (and hair), and it is world famous for:
Wrinkles, fine lines and scars repairing
Antioxidant
Anti-inflammatory
Deeply moisturizing
Stimulating for the superficial microcirculation
Skin strengthening
Skin protecting
UV protecting
Skin regenerating
Collagen production stimulating (makes the skin stronger, more supple and younger)
Minor cuts and burns healing
Muscle ache healing
Physical endurance enhancer
We stock only the best wildcrafted, certified organic, virgin west African shea butter, perfect for your skin care as is, or mixed with fragrance or in your cosmetic recipes. because our shea butter is 100 percent organic it is suitable for detoxification and internal use, a small bit can be taken internally which will help lung and flu and colds. this is a Senegalese folk use of the shea butter. our butter is unrefined. studies have shown that unrefined shea butter, when taken internally, can help rid the body of heavy metals. Other studies have shown that shea butter is a better skin ointment than leading emollients and skin protectants such as cocoa butter, lanolin and petroleum jelly. Unrefined shea butter also has antibiotic properties making it perfect for use on minor cuts and burns. With the many benefits provided by unrefined shea butter, none may be as well sought after for its impact on the skin.
From a Ghana herbalist named Teacher Baffour, "
Why not design your own skin cream! Collect a variety of wild flower petals; select the scent of each one that you like. You can even go as far as blending different scents together until you get the right one.
Finally, get a piece of light, white cotton material and make a small medicine to hold your petal mix.
Put the required amount of Shea Butter and medicine bag of petals into a large clear glass jar with a lid, leave it in direct sunlight for a 2x week plus.
Every evening open the jar to test the strength of the scent. If needed be, add some more petals.
From this humble beginnings you can possibly go on to achieve a cottage industry with a Product designed on the uniqueness out of the garden of Ghana. (Contact me with your failures & success)
Shea butter has been known to work well against stretch marks. It also benefits those suffering dry skin, dermatitis and sunburn, quick skin healing and cinnamic acid, which protects the skin against the harmful UV rays of the sun. Since Shea butter is well tolerated by the skin, it usually does not trigger off any allergic reactions. This makes it ideal for use by persons with sensitive skin.
Medicinal
Shea butter is used as a base for medicinal ointments and has been claimed to have anti-inflammatory properties.
It has been claimed internationally to be an effective treatment for the following conditions:
1. Fading scars, eczema, burns, rashes, acne, severely dry skin, blemishes, dark spots, skin discolorations, chapped lips, stretch marks, wrinkles, and in lessening the irritation of psoriasis.
It is also being used as a sun blocking lotion; although the level of protection against the sun's ultraviolet radiation is extremely variable, ranging from nothing to approximately SPF 6.
In Nigeria, Shea butter is used for the management of sinusitis and relief of nasal congestion.
This is due to its hydrating properties which help in relaxing the tension in the face skin thus easing respiration.
The anti-aging benefits of Shea butter have been recognized internationally and there is a mind-boggling range of Shea butter products available these days. Industrial The main industrial use of Shea butter outside Africa is in cosmetics, such as moisturizer creams and emulsion and hair conditioners for dry and brittle hair. It is also used by soap makers, typically in small amounts (5-7% of the oils in the recipe), because of its property of leaving a small amount of oil in the soap.
The Vitamins A and E found in Shea butter help in keeping the skin supple and healthy. It also prevents premature wrinkles and facial lines. Vitamin F works as a rejuvenator. (Vitamin F from our local Food) Rough and chapped skin is soothed and healed. Shea butter penetrates the skin easily and does not clog the pores. Dry skin and dry scalp relief
BIO-ACTIVE GRADES of SHEA BUTTER (From the American Institute of Shea Butter) Shea Butter comes in different grades: Grade A; Grade B; Grade C; Grade D; or Grade F. When laboratory analysis is done, grade is determined by the presence or absence of various nutrients.
Grade A is the highest and best quality for cosmetics and personal industry.
The highest grades are awarded to those butters with the largest Bio-active fraction (5% and above), a good safety screen, and rancidity value below 10. To that end, only the best preparation of unrefined Shea butter can earn the Grade A status.
Because of the limited amount of the Bio-active fraction preserved during the refining process, refined Shea Butter scores are typically grade C, sometimes Grade D, but never Grade A. and rarely Grade B. Grade F is reserved for Shea Butter not fit for human use. Grade F Shea is contaminated by micro organisms (such as mold, yeast or e. coli form bacteria) or contaminated with heavy metals (such as lead or mercury).
We source only the highest Grade A+++++ organic Ghana virgin raw unrefined Shea Butter medicinal and therapeutic grade.*
*The above statements have not been evaluated by the Food and Drug administration. This product is not intended to diagnose, treat, cure, or prevent any disease.