4oz. pure, organic, cold-pressed, unrefined Moringa oleifera seed oil (murungai, behen, ben oil, "nebedaye")
Moringa tree is native to India and surrounding countries and is widely grown throughout West Africa. Nearly all parts of the Moringa tree are useful for food and medicine and in parts of West Africa it is known as "nebedaye" or "never die." We are proud to present raw, wildcrafted Moringa leaf powder as well as this pure, cold-pressed, unrefined Moringa seed oil, also known as ben oil. Peer-reviewed studies of Moringa seed oil highlight its amazing antioxidant content, resulting in a very stable oil with a long shelf life. This also means it is an excellent emollient oil for anti-aging. In fact moringa seed oil's moisturizing properties make it very soothing and softening to the skin. These properties are favorable for skin inflammation issues that result in acne and eczema. It is very protectant also from external issues such as sun damage and contains antibiotic and antifungal compounds. In West Africa where moringa tree is widely cultivated the oil is also used to promote even hair growth when massaged to the scalp and we have many testimonial from customers with this experience. As its nature is highly emollient it has slow absorption so expect a sheen where applied. An excellent skin oil for daily moisturizing protection.*
Comes in 4oz. amber glass dropper bottle.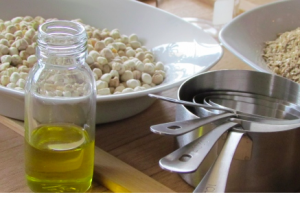 Note: To extend the shelf life of pure cold-pressed unrefined botanic oils and butters, store in a cool, dark environment. Keeping protected from temperature fluctuations, extreme temperatures, direct sunlight and keeping the lid on tight between uses will slow lipid oxidation and extend shelf life. For best shelf life, keep refrigerated, especially after opening.
*The above statements have not been evaluated by the Food and Drug administration. This product is not intended to diagnose, treat, cure, or prevent any disease.